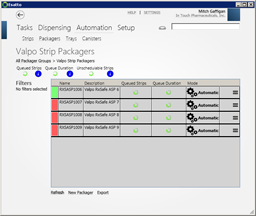 Esatto Automation
True automation for strip dispensing.
Automatic Order Synchronization
Bidirectional Pharmacy Interfaces
Fully Integrated workflow
Long Term Care
Esatto provides a flexible system for handling facility specific requests. Automatically select multi-dose or unit-dose, label types, and sort options. Provide a consistent product while reducing labor and error.
Retail
Esatto allows you to customize your label limitied only by your creativitiy. Any design you could make on a website can go on your pouches. Workflow features eliminate cut-ins, creating a professional looking product.
Workflow
Add outerwrap and other workflow documentation automatically. Create color laser documents for patient education, or UPS labels for shipping. All documents print as soon as the strip is scanned.
---